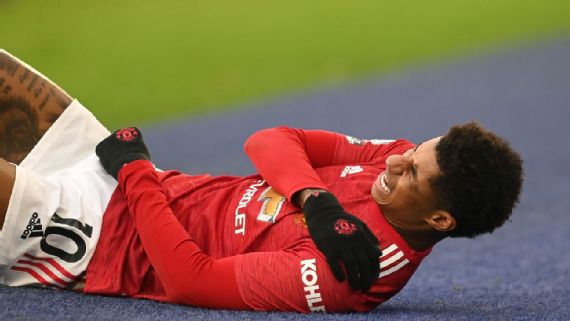 Manchester United's Marcus Rashford has not played a game completely pain-free in two years, sources told ESPN. The forward is managing shoulder and foot problems but is determined to make himself available for England at the European Championships in the summer.
Rashford has made 264 appearances for United since making his debut as a teenager in 2016 but despite dealing with a number of injuries for the past two years, the 23-year-old has only had one extended period on the sidelines, when he missed 14 games with a back problem last season.
Sources told ESPN he could elect to have shoulder surgery after featuring for England at the Euros but has told manager Gareth Southgate he will be available for the tournament, which kicks off in June.
It is expected that a foot injury that ruled him out of the 3-1 FA Cup defeat to Leicester before the international break and forced him to pull out of the England squad for World Cup qualifiers against San Marino, Albania and Poland will have to be carefully managed between now and the end of the campaign. He has started seven of United's last nine games but has not been able to complete 90 minutes since the 1-0 win over West Ham on March 14 more than a month ago.
"Marcus, yeah, we've managed him and we've had to manage him for quite a while actually," Manchester United manager Ole Gunnar Solskjaer said.
"Of course last year with his back, then he had his shoulders, which he's recovered really well from, and I feel he's gone through the worst of this foot as well and he almost played a full game against Leeds."
Despite playing through the pain, Rashford has managed to make 93 appearances since the start of the 2019-20 season and score 42 goals. He passed 20 goals in all competitions for the first time last season, ending the campaign with 22 in 44 games. He has featured in 51 matches so far this season, scoring 20 goals. Rashford's season total of 3,780 minutes is fourth on United's list behind Harry Maguire, Aaron Wan-Bissaka and Bruno Fernandes.
Sarri closes in on Roma job
Roma are close to appointing Maurizio Sarri as their next manager, with sources telling ESPN a deal is "80% done."
While coach Paulo Fonseca could still win a trophy this season, though Roma's 6-2 defeat to Manchester United in the Europa League semifinal first leg means that is now highly improbable, he is almost certain to leave after a troubled campaign. Roma sit 11 points off the Champions League places, have failed to register a victory against any of the top eight sides and have had two results awarded as 3-0 victories to their opposition due to administration errors.
Sources told ESPN that Fonseca has clashed with several of Roma's senior players — including Edin Dzeko, who was left out of the matchday squad for periods earlier in the season — and that a deal for Sarri is almost complete, with a verbal agreement over a two-year contract in place.
The Friedkin Group, who bought Roma in August 2020 with American Dan Friedkin the club's president, had looked at former Juventus manager Massimiliano Allegri as a candidate. But sources told ESPN they abandoned that move and are focusing on finalising Sarri's arrival.
Despite being sacked by Juventus last summer, Sarri's stock remains high in Italy due to his impressive stints in charge of Empoli and in Napoli. Sarri took Napoli close to the Serie A title in the 2017-18 season, and his side were admired for their thrilling style of play. Sarri then moved to Chelsea for the 2018-19 season, winning the Europa League in his final match before he left the club.
The Roma manager's job is among the most high pressured positions in Italy, with fans demanding success despite having won the Serie A title just three times in their history — with the most recent in 2001. Their last major trophy was in 2008.
Fonseca arrived at Roma in 2019 after an impressive three-year spell at Shakhtar Donetsk where he won the league title each season he was there. His time in the Italian capital has been largely underwhelming, though, with a fifth-place finish in his first campaign. 
Ibra could be dropped from COVID campaign in Milan
Zlatan Ibrahimovic could be dropped as the face of a coronavirus campaign in Milan after he was accused of having flouted COVID-19 lockdown rules. The forward was recently pictured in a restaurant when all hospitality venues in the city's "red zone" were shut.
AC Milan insisted Ibrahimovic had not committed any errors and continued to comply with COVID-19 regulations.
A spokesperson told ESPN: "He was in a private work meeting with a limited number of people. He did not eat lunch and was there a little over an hour to discuss business. He has been following the protocol which has kept him constantly monitored and has already taken his COVID test, like every other Serie A player."
Ibrahmovic, who was not wearing a mask in the picture, is at the centre of a local advertising campaign which urges people to wear face coverings.
Vice president and Assessor of Welfare of Lombardy Letizia Moratti said she would discuss the issue with Stefano Bolognini, the head of the campaign.
"It will be my responsibility to speak with the communications councilor who is responsible for the campaign and to discuss the episode that you have appropriately reported," she said to politician Michele Usuelli, when asked about the incident.